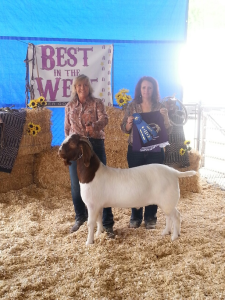 Congratulations Sara Blanchet on your purchase of JC Boer Goats Whiskey Business, and his Overall Grand Buck win at Red Bluff.  Whiskey is doing great in the Shows now having 30 show points before one year of age.  Fullblood Buck born May 2014 – Sired by MCR Prodigy and out of TST1 Eye of the Storm ( a full sister to Terry Taylors Stragetic Power who was such as great producer ) soon to be ennobled once Whiskey and his flush sister are 10 months old.  Big stout beautiful young buck. My pick of the flush buck kids to show. Whiskey is long sided, upfronted with super smooth shoulders that transition into his rack, super long sided like his mother, tracks out square both coming and going.  He weighed 125 pounds at just 5 months of age and he was not fat by any means… I am offering semen on this young buck at $ 75 per straw. Whiskey just won Overall Grand Buck at the Best in the West Open ABGA Show. Judge Kathy Davis – Carr said if you are looking to add size, length and frame, put this buck on your does.
Sire : MCR Prodigy **ennobled
Dam: TST1 Eye of the Storm ( soon to be ennobled)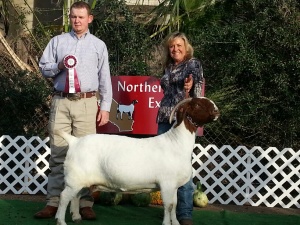 TST1 Eye of the Storm – pictured winning Senior champion at Northern Exposure. I pulled her from the pasture and took her to the show, she is 7 years of age in this photo. Great top, super long sided, tracks out square, just a phenominal Doe that produces superior offspring. I am so proud to own this great doe.