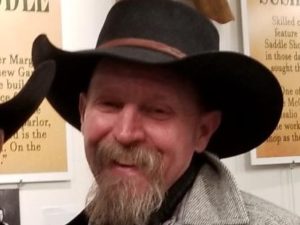 Welcome to Chip Wolf Custom Engraving – Bits, Spurs, Guns, Knives !
Cowboy Arts & Gear Bit Contest 2020 – This gorgeous hammer & Chisel engraved, with sterling silver is entered in this years bit contest in Elko, NV.  This bit sports the newest design in mouthpieces designed by Wylie and Chip Wolf named the W W  Spoon.  This bit along with others will be judged and sold on January 31, 2020 in Elko, NV during the Cowboy Poetry gathering in Elko.  Stay tuned to see how this bit places in the competition !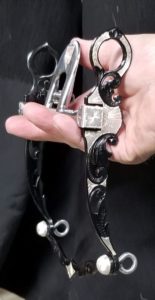 Chip, Wylie and Chuck Wolf won 1st place at the Cowboy Arts & Gear Bit Contest in Elko, Nevada in 2019 with this beautiful hammer & Chisel engraved, gun blued with silver bit. The mouthpiece is a Randy Bunch Special, so loved by many influential horsemen & women.  This bit was featured in the Western Horseman Magazine !